lirazel
Note: there is a real chance that in the course of this meta that I will betray my lack of gender/queer studies education (I'm so new to this world) and phrase something in a way that's offensive and/or hurtful. If that's the case, I go ahead and completely apologize. Please feel free to tell me what I'm doing wrong and to correct me in how to be more sensitive with my language. I'm eager to learn. (I also don't own any of the images, so I am not claiming credit for them.)
One of the things that's fascinated me since I first got into kpop is the ubiquity of drag (or at least of males-in-female-costume drag). It seems like every single male kpop idol has ended up in a dress at some point, dancing (or attempting to dance) to some girl group dance while the audience laughs. And yet, for all that we see it so often, I rarely get the feeling that there's anything transgressive about it. The purpose of it always seems to be humor—and of the broadest, most obvious sort: the idea that there's something inherently funny about a guy wearing clothes usually designated as female. There's rarely anything else going on, so when something else does peep through, it's all the more amazing for that.
There are some glimpses of some real gender-play in kpop—the last scenes of miss A's "I Don't Need a Man" video are drag in the best, sexiest sense of the word and there are times when Key of Shinee is dancing a girl group dance in a self-conscious-less way that isn't about humor at all but totally about the dance and his relationship to it. And then there's the comfort with which Dongwoo struts around in female clothes in WOWman—not only does he look stunning, but he's so incredibly comfortable with what he's wearing, breaking into girl group dances and flipping his hair around. He could pass, if he wanted to. The other guys on the show all look like masculine men stuffed into female clothes; Dongwoo looks like a woman. There's far less of that going on in Sungyeol's half of the "Trouble Maker" performance; it is supposed to be just pure entertainment. And it doesn't seem, looking at it from the outside, that there was much thought going into it being subversive in any way. Some of that subversion sort of creeps in anyway simply because of Sungyeol's body shape: unlike Dongwoo, who could easily pass, Sungyeol-in-drag is this strange mixture of verisimilitude (his face under that wig, his pretty hands, even his legs) and cues that keep his transformation from being 'complete' (his broad shoulders, his incredibly narrow hips, to a certain extent the definition of his arms, and definitely his undeniable height—things that are assumed to signify masculinity, even if there are women out there every bit as tall as he is, etc.). There's something transgressive about that mixture of 'feminine' beauty in his face at odds with the masculinity of his body. But that's not something that seems intentional; it's just a result of the body he already lives in, and his discomfort after revealing more of his body (when he rips the top of the dress apart) makes me think that transgression was never the point (not that he isn't allowed to feel discomfort or that he has to be transgressive, I'm just saying that it isn't).
But Lee Sungjong is an entirely different case. I tend mostly to talk (and talk and talk) about the weird and subtle ways in which Woohyun blends different kinds of gender performance, but that doesn't mean I don't love Sungjong's more obvious flouting of gender conventions. I am endlessly fascinated by and admiring of him, his maturity and poise, his sense of humor and savvy, his fearlessness and fierceness. Sungjong is a wonder. And right from the beginning he's been presented as having a unique relationship with gender. Pretty much the first time audiences had a chance to 'meet' him is in You're My Oppa, when Tablo and Mithra tease him—"are you sure you're not a girl?" "You're pretty like a girl." "You should just debut with a girl group." Now there's no doubt that Sungjong is incredibly pretty, and he seems to have always enjoyed hearing those words, 'you're pretty.' From what his hyungs say, he also consciously contrasted himself/aligned himself with female idols by learning girl group dances, then performing them for his hyungs and demanding they tell him that he's better at the dances/prettier than the 'common' female idols. It seems that he was the one who wanted to be doing all those girl group dances; if the stories are true, he was even forbidden from doing them by management and would get caught doing them in the bathroom by himself (would love to know what the rationale for 'don't do girl group dances anymore!' was). He really seemed to relish his 'feminine' presentation and the way people reacted to it.
There was always something transgressive about those girl group dances, too. He commits to them fully but not mockingly—he pops his hips and butt and raises his arms and struts in 'feminine' ways, blinking his big pretty eyes and holding the camera's gaze with his own—the moves may be exaggerated but that's not to create a sense of ridiculousness or humor, but, perhaps, out of a love for camp and performance. There's nothing winking or ironic about what he's doing (despite the fact that he does love to wink. I think it's because he knows just how gorgeous his eyes are and that draws attention to them). He loves girl group dances and he's going to perform them. And just the fact that he seems drawn specifically to dances choreographed for women (as opposed to, say, Hoya and Dongwoo who will totally do girl group dances and do them well when required but don't seem to seek them out) is transgressive in itself. He likes those movements, the different ways they show off the body (we're always hearing about his S-line, a phrase, to my knowledge, that's used almost exclusively to describe women but which Sungjong seems to have embraced and even flaunted if his style choices are anything to go by. THIS MAN). Those dances are mostly supposed to be 'sexy' or 'cute' but in specifically feminine ways. And yet Sungjong loves to perform them. That's hella amazing.
And yet, the response of most people is to laugh. Maybe that laughter does have a different tone to it than if more stereotypically 'masculine' guys were performing (I lovleovelove the contrast in this performance of an Orange Caramel song where the other two guys look more like guys-in-girs'-costumes where Sungjong looks so incredibly pretty and feminine—if it weren't for the lack of breasts, he could totally pass), but laughter seems to be the reaction, even if, from what I can tell, what Sungjong was looking for was admiration (Sungjong seems to really relish admiration, and I love how honest he is about that). The audience's reactions seem to rob it of a lot of his transgressive abilities, which makes me sad.
Sungjong's whole public construction is actually incredibly fascinating when I stop to think about it. We don't know as much about Sungjong as maybe any of the other Infinite members—what was his home life like? (We get glimpses into Hoya's and Dongwoo's, we've met Sungyeol's brother and mom and Dongwoo and Myungsoo's mothers.) He has a younger brother, but unlike all of the other members with brothers, I don't think we know his name (from what I can tell we don't know Sunggyu's sister's name, either, which I find interesting, but that's another story). What do we know? He's religious (he prays before every performance). He loves animals (evidenced by how he takes to the puppies in Birth of a Family, how he's totally at ease with being locked in a room full of frogs, how he pets cats, etc.). He likes scary movies. He reads a lot. He has close relationships with a lot of other idols and entertainment figures—Luna and Amber from f(x) come to mind, but he's the one making phone calls in Birth of a Family to call in favors because he seems to know everyone. Despite being an adult now, he still sleeps with stuffed animals (I love that he seems to feel no shame in this; I think it's beautiful). And he likes girl group dances. That's…pretty much it. Sungjong is one of the most private members by far (a fact I totally respect), and unlike the guys whose backstories are important parts of their personaes (Sunggyu and Hoya getting kicked out of their houses and working so hard, etc.) or who talk freely about things they're interested in (Sungyeol, Myungsoo and Woohyun), Sungjong keeps most of his personal life to himself. His personae has always been pretty straightforward: cute maknae who's sassy and fierce and pretty and gets frustrated with his hyungs and beats up his stuffed animals to take out those frustrations. And who does girl group dances.
And then, somewhere around 'The Chaser' or maybe a little bit before, something shifted. He started being less outwardly sassy and cute. He started being quiet and calm and dignified in interviews. He seemed to be hanging back and rolling his eyes at his hyungs a lot (SOMETHING THAT MAKES ME SO HAPPY). He stopped smiling as much. And he started doing less girl group dances (in one interview he even said, "I don't really like to do that anymore, but okay I'll do one because I'm asked"). Now, I'm not going to speculate on why all that happened. I'm sure part of it has to do with growing up and maybe being exhausted from several years of performing in that very specific way. It really doesn't matter, of course, because he should present himself however the hell he wants to. But it is fascinating, especially when his hyungs start saying fairly often in interviews that "Sungjong's really manly most of the time!" Saying it often enough that it looks like they really want us to get that message.
His personae's shifted. He's become, if you listen to his hyungs, the sexy one (they agree unanimously that he's the sexiest and Hoya DOES NOT WANT YOU TO FORGET IT since he talks about it all the time. I totally agree with them btw—he's completely sexy now). His sassiness has morphed a bit into fierceness (watch him flip his hair in that new haircut he loves and tell me that isn't one of the fiercest things you've ever seen). He can still beat up stuffed animals nicknamed 'Sunggyu' on Weekly Idol, but he just seems to be growing up, and part of that growing up seems to be becoming more 'masculine' and having less room for flirting with femininity and dancing 'like a girl.'
Or at least that's what I thought until 'Adult Ceremony' happened and blew my mind.
I'm still not over this performance, I doubt I ever will be. There is nothing funny about this performance. It isn't supposed to be funny. It's supposed to be sexy as hell and it is. It's also genius. No, really, I think it's absolutely genius. It's one of the purest expressions of 'genderfuck' I've ever seen (my experience is, admittedly, pretty limited, but still). Gender is both the point and absolutely irrelevant. He's blurring the lines and playing with gender while simultaneously throwing it out the window. I LOVE IT.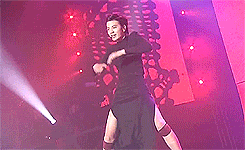 There's the outfit, for one thing. The point of that outfit isn't to imitate female sexiness (usually in attempt at comedy). The point of that outfit is to be sexy. There's that slinky skirt slit halfway up to his hips. The midriff bared with just a layer of mesh over it. The obvious knee-high hose. The slinky cut of it (I loooooooove the slink) that shows off his S-line. He doesn't have on a wig. There's minimal makeup. But his hair is in a headband that creates a sort of more feminine look. He doesn't stuff his chest or alter his body shape in any way—the point of the outfit is to show off the body he already has. So there's this blend of his male body (flat chest, for instance), his 'feminine' attributes (the curves of his outline, his lack of obvious muscular definition) and then this blend of the two (the way his hair is arranged, his beautiful but not-made-up face in the forefront, and the way he moves). He's a genderfuck.
Then there's the dance and music. Song sung by a famous female idol with a sexy image. Choreography intended for a sexy woman. Just like what we're used to from Sungjong, except, like the title of the song, it seems so much more grownup this time. The song is defiantly, femininely sexual—I know I'm what you want, I'm not a girl anymore, I become a woman at your kiss, I've been waiting for this all along. In its original form, this isn't a song that can be sung by either gender and have the same effect—this is a song that is defiantly, explicitly about <i>being a woman</i>. WOW. Now he changes the lyrics from woman to man and from girl to boy, and that could be seen as attempting to make it less explicitly female, but I don't think that's what's going on. For one thing, the rest of the performance belies that, and for another, he's still asking for 'feminine' things—to be given roses, for instance, the request to be 'taught' about love, and the fact that the singer is inviting action on the part of the one s/he's addressing (femininity is usually associated with passivity, masculinity with aggression and agency). Those things aren't usually the sorts of things men ask for in the dominate gender narrative. He doesn't change those words around, as someone else might. In fact, with the genders changed (woman->man, girl->boy), the song becomes subversive in a way it isn't when it's a woman speaking those words (because they're what's expected from a woman, if a confident one who knows what she wants). Another important element is that of Sungjong's age—not only is he very young and just transitioning into a more adult look, he's also the maknae, typically considered the cute baby of the group. By saying man instead of boy, he's making a statement about his adulthood and how he wants to be looked at that I think becomes a sort of motto for the transition he's making from cute little maknae to grown up performer. He's upending the status quo of the way that other people view him. That's powerful.
Add to all this the backup dancers—Hoya and Dongwoo always have male backup dancers, too, but they're more to create a mood of swaggering masculinity. When Sungyeol does 'Sexy Back,' they're for the same reason (shades of 'my crew'). With Myungsoo's solo performance, they're cute—bowties and cardigans and almost cheesy romanticism (OH GOD MYUNGSOO IS SO CUTE AND AWKWARD. God forbid he ever try to do a sexy stage, I can't imagine how terrible it would be). But that's not their purpose in Sungjong's performance. They're here to serve. To literally lift Sungjong when he's tired of walking and hold him up to the sky. To grovel and worship at his feet. They slide their hands on his body the way men do women in most music videos. Their moves are sexy, sure, and in a lot of ways reflect Sungjong's, but they've got nothing of Sungjong's sinuous undulating. They're typically masculine bodies, dressed in typically masculine ways, and the contrast that creates is potent. Even when they perform the exact same moves, it looks completely different when Sungjong is doing it—Sungjong's using the natural curves of his body and the more 'femininely' graceful way he typically moves to potent affect. The backup dancers create a backdrop of stereotypical masculinity against which Sungjong can perform his femininity in an in-your-face way.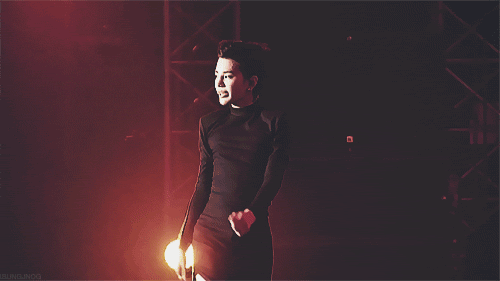 And on top of that there's the way he performs the song: flirtatious yet dismissive, confident and unabashedly sexual—he seems both seductive and as though he knows he's far too good for everyone in the audience. It's a culmination of aspects of himself he's always showcased: his sassiness becomes fierceness, his girliness becomes adult yet still feminine, his prettiness becomes sexiness. This is, in every imaginable way, all those girl group dances he ever did except all grown up. And grown up for him, in this performance, isn't about become more masculine, though it might be offstage. On stage, he can be 'feminine' but still an adult.
It's amazing. And sexy. And strong. He's daring you to laugh and at the same time the feeling you get watching him is that if you did laugh, he'd just roll his eyes, sneer, and forget about you. Your laughter is irrelevant to him, but he'll totally appreciate your worship. He's chosen a completely adult kind of 'feminine' sexuality to display instead of the cute-sexy we're used to. There's no diluting what he's doing: it's straight-up sexy, and it's not meant to be anything else. I still can't believe he got away with it, that he got permission to do it; either Woollim is a lot more progressive than I'd expect or they are totally missing the transgressive quality of what's going on or they thought it would turn out to be completely different than it did. It doesn't matter—the fact that he did it and pulled it off so beautifully is mindblowing. And, to my knowledge, pretty unique in the kpop world. And totally, totally on his terms. That, actually, is my favorite thing about it. He's segued in the least awkward way I can imagine from cute-pretty-girly-boy to grown-up-sexy-man-who-plays-with-gender-when-he-wants-to, and I, for one, am more than willing to offer him the worship he demands.